Survey Sites have been around a while, claiming to make you money, simply by you filling out a few surveys. One of the better sites, in this field, is Fusion Cash. Now with better sites, I mean you can actually make a few dollars (emphasizing on a few), but even if you are taking advantage of all of the details, you will not get rich.
Ways to Make Money With Fusion Cash:
Surveys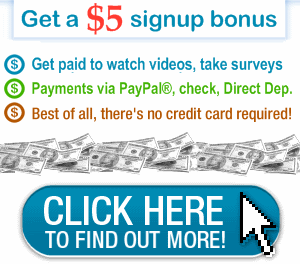 You can fill out the surveys listed, and if you are approved you get paid – from a few pennies, up to a few dollars. Those who make you the most money, want you to give them your credit card information – something I do not recommend, for anyone to do, ever! Some of the legitimate surveys, allow you to repeat them every day, which is cool, others are only  offered once. I have had a few surveys get stuck in the middle, or even at the end, and did not get a credit for them. After investing about 10 minutes of my time, that was a frustrating conclusion.
Daily Email 
There is a daily email, you can sign up for, which will pay you 2 cents, if you open it, and follow the instructions. Usually the task is to look at a short video, and put in a phrase into the appropriate box. It does not take much time, so I do it every day, when I am already checking my mail anyway.
Paid To Click
Another way to earn a few pennies toward your cashout limit is to go to the paid-to-click section of the FusionCash site.  There you will be asked to click on a few pages (usually four), and then to click on one of the sponsored ads.  You will then receive your 5 to 20 cents, which you can repeat daily. Again this does not take long, and you can do that while you are doing something else. If you are concerned about clicking on adds, Fushion Cash (and that goes only for Fusion Cash), carefully vets their advertisments, so you can trust them. Of course, always use caution, and never enter any personal information into those advertisements. You do not need to, to get your bonus anyway.
Watch Videos, Play Games, Take Quizzes
There are additional opportunities, such as watching videos, answering quizzes, and sharing slide shows via social media. I have personally not tried out these options because I simply do not like quizzes, but I know a few people who do and have tried it, with some positive results. Again, if you have the time, and like doing quizzes, or watching videos, this might be an option for you
Referrals
The last way to make money on Fusion Cash is to refer others to the site. You will receive money when a referral verifies their email, and whenever they cash out. As long as you don't over-promise the results and make the site look like it is something that it is not – a great way to make a lot off extra money, instead of the reality, that you can make a few dollars to feed your Starbucks habit – I don't see any problems with making money this way. I try to make sure that every site I refer someone to, I am not simply doing it because it makes me money, but because it actually will benefit you in some way, and consider that ethical. But if and how you choose to take advantage of that, is up to you.

Conclusion:
Fusion Cash is a legitimate and safe site to make a few extra dollars. It is free to join, and you will not asked to pay anything to Fushion Cash at any time.  Do not expect to make a fortune. My balance for this week is 9.86 US Dollars for activities, and surveys. This total does not include referrals.  That is about what you can expect for a few minutes of your time every day unless you have way too much time on your hands.
Fiercely Independent Blessings!
Claudia